Browse Journals and Peer-Reviewed Series
ISSN 2691-5596
The Journal of Access, Retention, and Inclusion in Higher Education supports research in the areas of developmental education, access, retention, inclusion, and student success in higher education. Contributors provide scholarly research, practical insight, and accounts of best practices to support students from traditionally underrepresented, first generation, and other marginalized communities. Readership includes faculty, program managers, legislators and college/university senior leadership.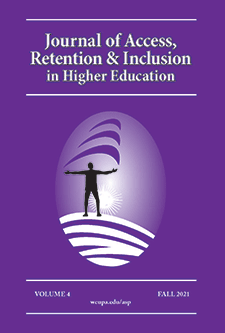 Ramifications is a student-run, peer-reviewed, open-access undergraduate journal published through the Council for Undergraduate Research at West Chester University. Ramifications publishes journal articles documenting research and creative activities completed by undergraduate students. West Chester University, part of the Pennsylvania State System of Higher Education, believes in the importance of student scholarship as an outgrowth of student learning, Ramifications is an expression of that learning.
Ramifications is an interdisciplinary journal and encourages students from all areas of study to submit articles for publication which reflect the definition of scholarship within their discipline. Ramifications is published electronically, once a semester.