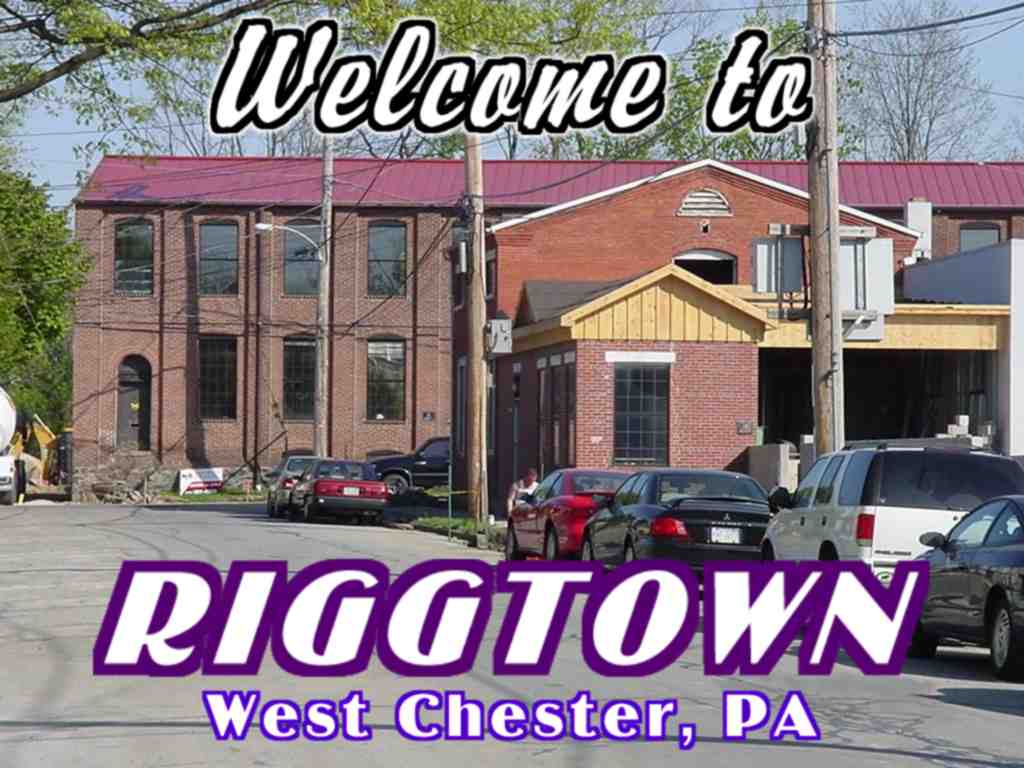 The information archived here originally appeared on a web site called the "Riggtown History Homepage"
(presenting local history from West Chester, Pennsylvania)
Copyright 2015 by Dr. James A. Jones
"About this web site ...
This website contains historical data on the neighborhood of Riggtown in the borough of West Chester (Pennsylvania) and the area surrounding it. It was created by Dr. Jim Jones of the West Chester University Department of History, students of his HIS480 "Computer Methods in Historical Research" classes and other volunteers using data provided by the Chester County Historical Society, the West Chester University Library, and the Chester County Archives."
Riggtown History
01 A Short History of Riggtown (West Chester, Pennsylvania), James Jones
02 Interview with Jack and Charlotte Harvey, James Jones
03 A Tribute to Jack Harvey (1919-2002), James Jones
04 Interview with "Sarge" Clark, James Jones
05 A Tribute to "Sarge" Clark (1915-2001), James Jones
06 Interview with Charles and Nancy Carey, James Jones
07 Interview with Martha Stanley and Anne Gincley, James Jones
08 Interview with Thomas "Pat" Morley, James Jones
09 Interview with Dorothea Parker, James Jones
10 Walking Tour of West Chester's Railroad Corridor (from Riggtown to Market Street and back), James Jones
11 Riggtown veterans of World War II, Anonymous
12 Petition to create Green Field, circa 1943, Richard Carey
Government and Law
01 Borough Officials, 1799-present (West Chester, Pennsylvania), Thomas A. Pitt Jr. and James Jones
02 Water Bills During Tough Times, James Jones
03 West Chester Gets a Sewer System, James Jones
04 They Also Ran (Stories of Past Elections), James Jones
05 Life and Death Matters, James Jones
06 Chester County Prison and Its Inmates, June 1900, Donald H. Bunnell
07 Miscellaneous Notes on the History of Government in Chester County, James Jones, David Flogaus, Kelly Kulp-Bosler, Mike Wolford, Bob Gialanella, Robert Gregory, Robert Troutman, Nancy Hershey, Christopher Waychunas, Kenneth McFadden, John Morrison, Scott Harre, Daniel Cleary, and Vincent Civiletti
08 Miscellaneous Notes on the History of Education in Chester County, James Jones, David Flogaus, Kelly Kulp-Bosler, Mike Wolford, Bob Gialanella, Christopher Waychunas, and John Morrison
Health
01 The West Chester Board of Health, 1885-1960, Charlotte Bridges
02 Miscellaneous Notes on the History of Health Conditions in Chester County, Ken McFadden, Vince Civiletti, Chris Waychunas, Nancy Hershey, Bob Troutman, Bob Gregory, John Morrison, Scott Harre, Dan Cleary, and James Jones
03 Comparison of Causes of Death in Chester County and the United States at the Turn of the Twentieth Century, Karin L. Flippin
04 Causes of Death in the Late 19th Century mentioned in the Register of Deaths, 1893-1907, Karin L. Flippin
Labor and Business
01 Miscellaneous Notes on the History of Working in Chester County, Ken McFadden, Vince Civiletti, Chris Waychunas, Nancy Hershey, Bob Troutman, Bob Gregory, Scott Harre, Dan Cleary, James Jones, and John Morrison
02 A Local Contribution to the Cold War, James Jones
03 The Borough's Hotel History, James Jones
04 Unusual Historical Find - the Boals' Ford Dealership, James Jones
05 West Chester's First Factory Still Stands, James Jones
06 Benson's Department Store, James Jones
07 A Brief History of M. S. Yearsley & Sons hardware store on E. Market Street in West Chester, James Jones
08 The History of the "Mosteller Corner" in West Chester, Pennsylvania, James Jones
09 Notes on the Keystone Tag Company, 1901-1956, James Jones and Kelly McVeigh
10 Notes on the Denney Tag Company, 1884-1991, James Jones and Kelly McVeigh
11 Notes on Charles E. Lucas Sr. & Jr. and the Lucas Tag Company, James Jones
12 The Evolution of the Mushroom Industry in Kennett Square, Samuel E. Flammini
13 Schramm: The Legacy of 100 Years, Thomas W. Brientnall
14 Small Tags, Big Business: The Keystone Tag Company of West Chester 1901-1956, Kelly McVeigh
15 The Industrialization of West Chester, James Jones
Historical Maps
01 Tracing West Chester's Growth Through Maps, James Jones
02 1847 map of West Chester, Eric Chandlee Wilson
03 1928 map showing route numbers in and around West Chester, Keystone Automobile Club
04 Municipal Borders in Chester County, Chester County Planning Commission
05 1960 Population Distribution Map of West Chester, West Chester Borough
06 1966 Zoning District Map of West Chester, West Chester Borough
07 2005 Map of West Chester, West Chester Borough
Recreation
01 West Chester, Pennsylvania's Warner Theatre, Alishia M. Faller
02 West Chester's Everhart Park: A Century of Recreation, James Jones
03 Remembering Bud Sharpe, Ballplayer, Charlie Weatherby
04 Mike Grady (Early Baseball Player), Charlie Weatherby
05 Joe Borden (Early Baseball Player), Charlie Weatherby
06 Brandywine Baseball Club (West Chester, PA), Charlie Weatherby
07 184 Years of Borough Christmas Events, James Jones
Society and Culture
01 Remarks on Racial and Cultural Conflict in Chester County for the Discussion of the 1845 edition of "The Narrative of the Life of Frederick Douglass, an American Slave", James Jones
02 The Formation of Riggtown: A Sociological Approach To Understanding Community Relationships, Wendy L. Smoker
03 West Chester's Baha'i Roots, James Jones
04 Miscellaneous Notes on the History of Religious Activities in Chester County, James Jones, David Flogaus, Kelly Kulp-Bosler, Mike Wolford, and Bob Gialanella
05 Patriotism and Paradox: Quaker Military Service in the American Civil War, Mark A. Schmidt
06 West Cestrians and their Animals, Mary Kivlin
07 Miscellaneous Notes on the History of Animal-Related Issues in Chester County, Mary Kivlin and James Jones
08 Borough Botanist Was Also a Birder, James Jones
09 Notes on Thomas Thompson's Biography of Chris Sanderson, James Jones
10 The "Four Sisters", James Jones
Transportation
01 The West Chester Railroad's Gay Street Station, James Jones
02 A Brief History of Transportation in West Chester, James Jones
03 Railroads and Stations in Chester County, James Jones
04 Miscellaneous Notes on the History of Streets, Roads and Public Works in Chester County, James Jones, David Flogaus, Kelly Kulp-Bosler, Mike Wolford, Bob Gialanella, Daniel Cleary, John Morrison, Scott Harre, Robert Troutman, Nicole Bowman, Karin Flippin, Mary Kurtak, Kelly McVeigh, Wendy Smoker, and Brian Toombes
05 History of the West Chester Railroad to the PRR takeover in 1879, James Jones, David Flogaus, Kelly Kulp-Bosler, Mike Wolford, Bob Gialanella, Daniel Cleary, John Morrison, Scott Harre, Robert Troutman, Nicole Bowman, Karin Flippin, Mary Kurtak, Kelly McVeigh, Wendy Smoker, Brian Toombes, and Don Callander
06 History of the West Chester Railroad from 1879-1882, James Jones, David Flogaus, Kelly Kulp-Bosler, Mike Wolford, Bob Gialanella, Daniel Cleary, John Morrison, Scott Harre, Robert Troutman, Nicole Bowman, Karin Flippin, Mary Kurtak, Kelly McVeigh, Wendy Smoker, Brian Toombes, and Don Callander
07 Notes on the History of the West Chester Railroad 1883-1893, James Jones, David Flogaus, Kelly Kulp-Bosler, Mike Wolford, Bob Gialanella, Daniel Cleary, John Morrison, Scott Harre, Robert Troutman, Nicole Bowman, Karin Flippin, Mary Kurtak, Kelly McVeigh, Wendy Smoker, Brian Toombes, and Don Callander
08 History of the West Chester Railroad from 1894-1906, James Jones, David Flogaus, Kelly Kulp-Bosler, Mike Wolford, Bob Gialanella, Daniel Cleary, John Morrison, Scott Harre, Robert Troutman, Nicole Bowman, Karin Flippin, Mary Kurtak, Kelly McVeigh, Wendy Smoker, Brian Toombes, and Don Callander
09 History of the West Chester Railroad from 1907-1945, James Jones, David Flogaus, Kelly Kulp-Bosler, Mike Wolford, Bob Gialanella, Daniel Cleary, John Morrison, Scott Harre, Robert Troutman, Nicole Bowman, Karin Flippin, Mary Kurtak, Kelly McVeigh, Wendy Smoker, Brian Toombes, and Don Callander
10 History of the West Chester Railroad 1946-Present, James Jones, David Flogaus, Kelly Kulp-Bosler, Mike Wolford, Bob Gialanella, Daniel Cleary, John Morrison, Scott Harre, Robert Troutman, Nicole Bowman, Karin Flippin, Mary Kurtak, Kelly McVeigh, Wendy Smoker, Brian Toombes, and Don Callander
The Depression of the 1930s
01 Notes on West Chester, Pennsylvania Borough Council Meeting Minutes, 1929, James Jones
02 Notes on West Chester, Pennsylvania Borough Council Meeting Minutes, 1930, James Jones
03 Notes on West Chester, Pennsylvania Borough Council Meeting Minutes, 1931, James Jones
04 Notes on West Chester, Pennsylvania Borough Council Meeting Minutes, 1932, James Jones
05 Notes on West Chester, Pennsylvania Borough Council Meeting Minutes, 1933, James Jones
06 Notes on Daily Local News articles from November 1929, James Bencrowsky
07 Notes on Daily Local News articles from December 1930, David Fraser
08 Notes on Daily Local News articles from January 1931, Ben Grim
09 Notes on Daily Local News articles from March 1931, Justin Grisin
10 Notes on Daily Local News articles from April 1931, Nuah Gweh
11 Notes on Daily Local News articles from May 1931, Kali Kokas
12 Notes on Daily Local News articles from June 1932, Jim Metzger
13 Notes on Daily Local News articles from July 1932, Michael Pasquarello
14 Notes on Daily Local News articles from February 1933, Jon Sauerwald
15 Notes on Daily Local News articles from March 1933, Derek Shugar
16 Notes on Daily Local News articles from November 1933, Chris Weering
17 Notes on Daily Local News articles from December 1933, Joseph Williamson
18 Daily Local News coverage of the September 11, 1931 Goose Creek Fire, James Jones
19 The West Chester Fire Department and the Great Depression, Chris Weersing
20 Diets in West Chester during the Great Depression, Derek Shugar
21 The Effects of the Depression at West Chester State Teachers College, Joseph Williamson
22 The Great Depression and Its Effects on the Movie Theatres of West Chester, Pennsylvania, Michael Pasquarello
23 Notes on Studs Terkel's oral history of the Depression, "Hard Times", James Jones
The Everhart Tract
01 Transcribing the Everhart Deed, James Jones
02 Partial Transcription of the 1829 Everhart Deed, James Jones
03 The Scandalous Life of Edwin Everhart, James Jones
04 Benjamin M. Everhart's Last Will and Testament, James Jones