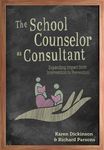 Title
The School Counselor as Consultant: Expanding Impact from Intervention to Prevention
Description
Written to help school counselors address the ever-changing needs of their clients and the growing demands of the profession, The School Counselor as Consultant: Expanding Impact from Intervention to Prevention provides readers with a service delivery model that emphasizes remediation and prevention. The model empowers school counselors to intervene when necessary, identify key opportunities to promote growth, and successfully deter future challenges and incidents.
Section I addresses the expanding role of school counselors, fresh perspectives for approaching this important work, and an introduction to the concept of prevention. In Section II, readers learn key strategies for effective consultation, are introduced to a multidimensional, integrated model of consulting, explore the concept of counselors as agents for change, and learn tips for working with resistance and maintaining an ethical practice. Section III focuses on moving beyond intervention to prevention and provides actionable instruction for varying levels of prevention. The final section shares case studies that demonstrate multiple levels of intervention and prevention and invites students to reflect upon and discuss the topics addressed throughout the text.
The School Counselor as Consultant is an enlightening and practical text that is ideal for both pre-service and practicing school counselors.
Publisher
Cognella Academic Publishing
Disciplines
Student Counseling and Personnel Services
Recommended Citation
Dickinson, Karen L. and Parsons, Richard D., "The School Counselor as Consultant: Expanding Impact from Intervention to Prevention" (2019). College of Education & Social Work Faculty Books. 37.
https://digitalcommons.wcupa.edu/coefaculty_books/37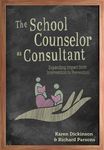 COinS