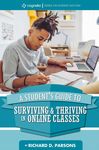 Title
A Student's Guide to Surviving and Thriving in Online Classes
Description
Staying at home and continuing your education via online classes may not have been your choice. At the present time, however, it may be your only option, so it's vital that you make the most of it.
Preparation is key. Are you ready to log on and learn in the online classroom? You may have comfortable clothes and a snack prepared, but have you created a plan for how you'll participate, considered how you'll troubleshoot potential technical issues, and thought through other challenges and opportunities?
A Student's Guide to Surviving and Thriving in Online Classes provides you with practical, research-based suggestions to prepare you for success in online educational experiences. With this guide, you'll reframe your concept of the "classroom" and reflect on your personal learning style in relation to online learning. You'll learn how to adapt critical study habits and learning skills, including self-regulation, personal motivation, goal setting, and time and task management, to virtual settings.
A timely and vital resource, this guide will help you develop the mindset and skillsets required for you to thrive in your online courses.
A Student's Guide to Surviving and Thriving in Online Classes is part of the Cognella Series on Student Success, a collection of books designed to help students develop the essential life and learning skills needed to support a happy, healthy, and productive higher education experience.
Publisher
Cognella Academic Publishing
Disciplines
Online and Distance Education
Recommended Citation
Parsons, Richard, "A Student's Guide to Surviving and Thriving in Online Classes" (2021). College of Education & Social Work Faculty Books. 36.
https://digitalcommons.wcupa.edu/coefaculty_books/36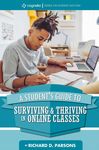 COinS