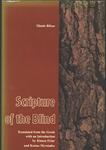 Title
Scripture of the Blind: Poems
Description
Carefully oberved and simply expressed visions of the human condition.
Written mostly in a time of war and turmiol, the language is sparse and unflinching in its portrayal of everyday life. Each poem is set within lives discreetly lived in plain veiw of the observer. Yet with each superficial glimpse of the woman next door, or the hunter, or the deaf mute on the bus, the observer contemplates the roots of human perception and motivation and the interaction between the two. "Perhaps in this way he learned the deep secret not even he must reveal."
Small gestures can have monumental signficance in human interactions. This book will remind everyone who reads it of the poetry all around us: in the people we see on the street; in the passing phrase that takes its context in accidental occurences; in the gesture of a stranger standing far away.
This poetry reaffirms life in all its shades and colorings. It never forgets death is inevitable, but it reminds us there is a lot of poetry in between.
Publisher
Ohio State University Press
Disciplines
Byzantine and Modern Greek | Poetry
Recommended Citation
Ritsos, Yannis; Friar, Kimon; and Myrsiades, Kostas, "Scripture of the Blind: Poems" (1979). College of Arts & Sciences Faculty Books. 51.
https://digitalcommons.wcupa.edu/casfaculty_books/51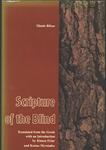 COinS